By Alex Robertson
Watching these mighty beasts splash in the river is an amazing sight, says Alex Robertson.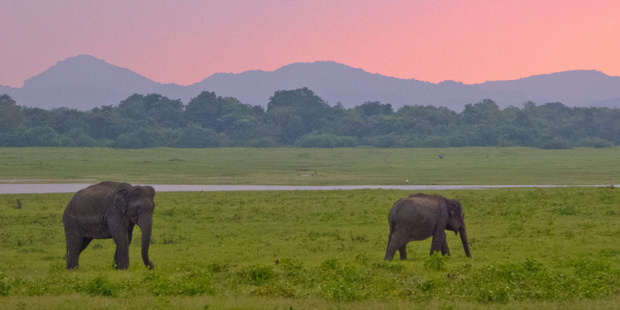 How do you tell a male from a female elephant?" our guide Amiter asked, with a glint in his eye, as we bumped our way toward the Pinnawala Elephant Orphanage in Kegalle, central Sri Lanka.
"The male has longer legs at the front – to make it easier when he mounts the female!"
He tossed his head back and roared a toothy laugh, before telling us that the length of an elephant's front legs is twice the circumference of its footprint, that Asian elephants have small ears (their natural habitat is in cooler forests in the highlands and they don't have heat issues, unlike their African cousins) and that their trunk has only one finger at the end, compared with two for an African elephant, because of the abundance of food.
Elephants are revered in Sri Lankan culture: their image adorns temples across the country and, to Buddhists, represents birth. Hindus worship them in the form of the deity Ganesha. The British Christians, however, saw elephants, which sometimes destroyed farmland and buildings, as a problem and encouraged their destruction.
In the mid-19th century, Major Thomas Rogers claimed to have shot 1500 elephants – one a day for four years.
Wild elephants gradually lost their highland habitat to coffee growers, then tea plantations, and moved to lowland areas where they became more of a problem to farmers, who regularly trapped and killed them.
The population dwindled from an estimated 14,000 in the early 19th century to less than 2500 by 1969.
Conservation is now the aim and by 2011 the population had increased to more than 5000. The Sri Lankan Government set up the Pinnawala orphanage for young and injured elephants at Kegalle in 1975; it is popular with tourists and locals – there were two school parties the day I visited.
Young elephants can be hand-fed for a small fee, and foreign tourists line up for a happy snap as four litres of milk are greedily sucked from gigantic glass bottles.
The highlight of the visit is definitely bath time (10am and 2pm), with 84 animals – from giant tuskers to tiny babies – trundling a dusty path through the village to cool off in the Maha Oya.
If you help supplement their meagre income, the handlers will help you to get up close for a special snap, as the elephants splash and play.
The village is made up of cafes and tourist shops, and a souvenir made from elephant dung (see below) should be on everyone's shopping list.
The orphanage does great work helping animals that would otherwise die young, but the best way to see elephants is from the back of a Land Rover. Wild herds can be seen in some of the country's 22 national parks.
In Kaudalla Park, the elephants seem relaxed and can be seen in family groups: a mother, trunk raised, chasing after her errant baby; an infant suckling between her mother's legs; two adolescents play-fighting, their trunks entwined as they push against one another; two kids wrestling on the ground.
The only noise is the occasional trumpet or snort from a bull and the tearing and swishing as trunks twist, wrench and flay grass before it is thrown into a mouth or over a back.
The sky turns purple at the edges; two elephants are silhouetted in the fading light, yet I can still make out that one is a male, the other female.
Elephant dung paper is the write stuff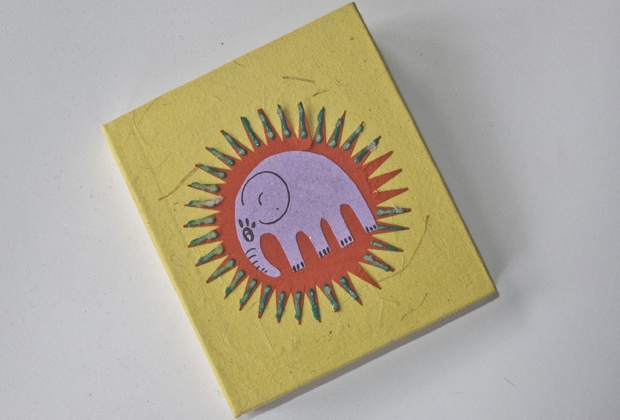 An adult Asian elephant eats about 200kg of plant matter and drinks 200 litres of water a day. A similar amount comes out the other end.
Multiply this by 84 animals – the population at the Pinnawala Orphanage – and you have a rather large problem.
The intelligent and resourceful Sri Lankans have come up with a neat solution to this mountain of waste – turning poo into paper. You can watch the process away from the full glare of the sun and out of sight of the cack-averse.
Waste is collected twice daily; the larger leafy material is separated and composted, while the dung is put aside to be dried and shredded.
The resulting fibre is boiled and sterilised and dye is added for colour. There's another round of drying and soaking before the mulch is pulped by hand and set on stretchers to dry as sheets of paper. The rough paper is smoothed by rollers to create fine paper and formed into many products.
Colourful books and greeting cards are popular souvenirs, with tourists attracted by signs that yell out "Poo Paper" or "Elephant Dung Products", sometimes with pictures of elephants on the loo.
They didn't have toilet paper for sale, though, which would be rather clever in a Buddhist circle-of-life way.
Via NZ Herald